Every man faced with problem of razor burns. Inflammation, ingrown hair, pain, bad look – everyday trouble that seems to never disappear. Want to know how to deal with it? Read today's article!
The main causes of razor burns and razor bumps are:
– Long term electric shaver using without disinfection,
– The use of disposable razor for too long, or untimely blades replacement on a reusable razor,
– Too frequent shaving, skin simply does not have time to adapt,
– Lack of hydration of the skin,
– Inappropriate cosmetics.
If you already have razor burns – follow next page!
What to do?
If you have a lot of ingrown hair, irritation and/or pustules best of all visit dermatologist. If you can't do this for any reason follow next advices:
– Do not shave at least few days – it can cause more irritation,
– Use moisturising creams, best of all with aloe vera – to heal your skin,
– Use scrubs and exfoliants – they will remove dead skin cells and help to get rid of ingrown hairs,
– When you be sure, that your skin healed and moisturized you can try to remove ingrown hair with pincers or, better, special creams.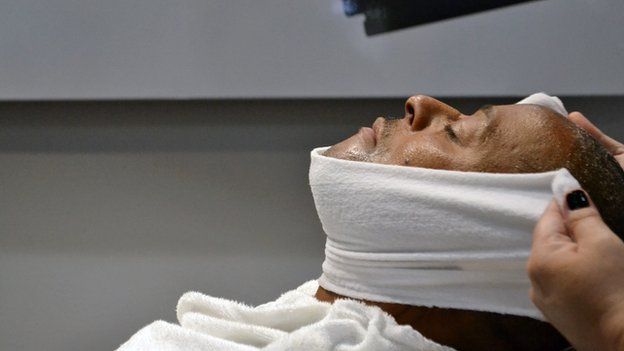 If you got razor bumps – JiJi strongly recommends to visit cosmetologist or dermatologist – bumps, as a rule, are caused by local infection! Specialist will advise you the best way to get rid of this mess from your face that will be the best for your skin type – today here are a lot of procedures – from simple popping to electric and laser treatment!
But the easiest way to solve this problem – to prevent it!
First of all pick right cosmetics:
– Before shaving apply a face wash or lotion containing salicylic or glycolic acid on the shaving area.
– Always use shaving cream, foam or gel with moisturising effect – they will lessen skin damage. And never use soap – it dries skin!
–  Avoid products with alkohol – it clogs pores. Better use it the to clean razor.
Razor is also important!
– Razor should be individual – do not allow your girl to shave her legs with your razor and don't use hers one!
– Timely change disposable razors or blades
– Treat razor with spirit before and after use
– Use sharp blades
– Always clean your shaver!
Few shaving tips
– Before shaving take a warm shower of bath – it will steam out skin, increase effect from moisturizer and soften your beard.
– Shave only with warm water.
– Shave with the grain. Of course, your face will not be perfectly smooth, but you will avoid many skin troubles.
– Do not press razor – better make more short strokes.
– Do not use towel – it can hide a dirt and probably there are a lot of bacteria!
– Dry razor and bush after use!