We all need to sleep. One of main things, responsible for good quality of our sleep is our bed. Good, suitable bed – good, effective rest, but one with orthopedic mattress is expensive  treat. You, of course, can buy the cheapest one,
but if you don't want to torture your body and save money without loosing sleep quality, – read JiJi.ng advices!
Look on this incredible designs! Some beds from this photos are to unusual, you can even imagine how to sleep on them! But almost all of them are based on common constructions. On page 2 you find recommendations how to choose perfect bed, that satisfy your needs and become an important part of your interior.
Save time and money – chose JiJi.ng!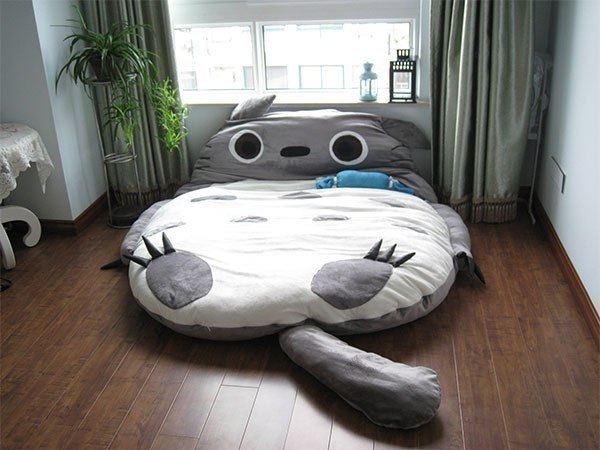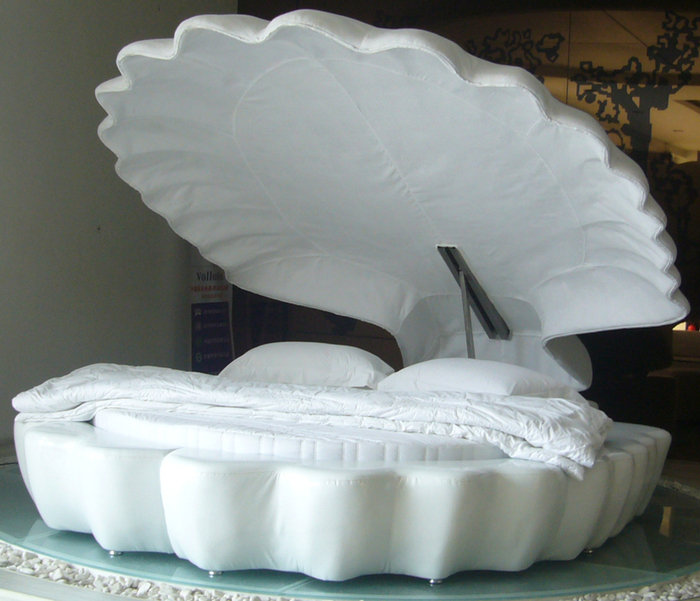 Don't miss next page!
Bed is composed of a bedstead and mattress.
Bedstead is responsible for strength and durability of exploitation.
Standard models consist of bed headboard, side panels, foot wall, frame and legs. Headboard as well as the side panels are made of different materials.
The design of the bed does not always provide the foot wall, which is very convenient for people of high growth that does not fit standard sizes. Bed base is most often manufactured from metal mesh, lattice or frame.
Metal mesh is the cheapest but has the least quality. Wooden frame with rails is considered more solid foundation.
Some designs include the bed linen drawers, built-in side panels.
Bed frame can be in two forms:
Two supporting the backrest and fool wall, and two lateral side-bars.

Four bars and hinged backs. Hinged backrest can be two or one (only for head).
If the bed is constructed of the second type (without supporting backs) required support. Most often it is four feet. Although there are other options: the wheels, the side walls, extra-base bottom (podium, platform) and others.
Which framework is preferable? In fact, it does not matter whether on foot will draw bed or on the bars. Any good bed will be in use a long time, but cheap furniture can creak quickly and will require replacement.
However, in fairness it should be noted that the legs of the bed are broken more often than bars. The choice is yours.
To know more follow next page!
Material
Material is very important. Modern beds are made of solid wood, veneer wood, particle board, chipboard and metal.
The most important is not even the material and its environmental friendliness and hygiene. The main thing is that the bed was not made from harmful materials or coated and impregnated with dangerous chemical compounds.
Wood is the most environmentally friendly material. In addition, it is reliable and durable.
Recently popular steel bed made of laminated particle board (chipboard). This material has proven itself as an unpretentious and easy to use. In addition, the bed made of chipboard, is cheaper than wooden.
Also frames made of plywood. Plywood can be high or low quality. In order not to buy a bed with a framework of low-grade plywood, inspect it carefully. Check all fasteners on the strength of the joints. Look, is there crumbled veneer.
Another material that is not inferior in quality, durability and sustainability tree is metal. Since the metal does not tolerate moisture, manufacturers learned to cover such constructions special paints and varnishes to protect them from corrosion.
On next page you will find many useful information!

The base of the mattress
The bases can be wooden, metallic, plastic and orthopedic. They consist of a frame to which the same distance from each other are attached bent and glued or straight slats.
Wooden base is well ventilated and has a low cost. However, the space between the rails affects on the mattress, that eventually loses its shape and, consequently, rapidly fails.

Plastic base for beds are made on the basis of plastic spring elements. This mechanism allows you to adjust the position of the bed. Plastic base is a good orthopedic support, strong and durable. However, it is are poorly ventilated and expensive.

Metal bases are made of metal mesh. It can be very hard and can cause discomfort during sleep and rest.

Orthopedic bases are curved wooden beams, which are attached mattress called lamellae. The distance between the beams depends on the weight of the base and orthopedic beds in general.
Choosing a mattress.
In this question better rely on yourself and your feelings.
Don't be shy to lay on your future bed – test the strength of the bed and mattress. The bed should not squeak or rattle. Better bed is large than small – you should be free to fit into the size of the bed. Do not choose too springy mattress or, conversely, very soft, as the weight it will not be distributed evenly. Turn over, listen your body. It is absurd to come home and, having tested the mattress in native walls, realize that you do not like it. But the return and exchange, this category of goods is not subject.
Don't miss next page!
Useful tips
When choosing a bed frame, inspect it, and all other details. The fasteners must be firmly connected. On the surface of the bed should be no chips, cracks and scratches. The surface must be flat and smooth. Paint or varnish should be applied uniformly.
It is important that the bed was made from environmentally friendly materials. Therefore, ask the seller a certificate confirming hygiene and environmental friendliness of the materials used. Also, you must provide a guarantee for the assembly and quality beds.
If your bedroom has little space, look on convertible beds , it will help to save precious area and make optimal use of the entire space.
When buying a bed, it is important to pay attention on its height.
For bedrooms in styles such as minimalism, hi-tech as well as oriental motifs probably be more appropriate to choose a low-bed platform.
Do not skimp on such an important purchase, as many experts agreed that the cause of virtually all back diseases associated with the uncomfortable bed.
Sleep well with JiJi.ng.